In Memory of Bevan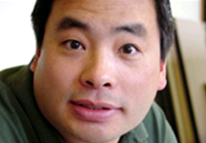 Bevan Wang co-founded Active Edge New Media, Inc. (ActiveEdge) in 1997. As Creative Design Director, Bevan was responsible for developing ActiveEdge as a company by building a production department from the ground up. He had a hand in every project that was developed at ActiveEdge by lending his guidance and expert knowledge.
Bevan was a wonderful individual. It didn't take much to get him excited, a cool new application, a cool visual asset, sometimes even a great tasting cookie. And his excitement was contagious. He'd get excited about something and his brain would start racing and he'd get you all jazzed about it as well. We have definitely been missing his excitement and enthusiasm in the office.
ActiveEdge is built very much in Bevan's image. His quest for perfection and enthusiasm are the basis for everything we do. ActiveEdge will continue to live on with the excitement and principles that he brought to the company.


About Bevan
Bevan Wang grew up in Milwaukee, Wisconsin, the son of Julia Wang, a fashion designer, and Richard Wang, a physician and research director. When it was time for college, Bevan had a passion for computers and came to Massachusetts to further his education. He graduated with a degree in Computer Science from Worcester Polytechnic Institute, and began his career at Digital Equipment Corporation in Nashua. He left and co-founded a new company called ActiveEdge New Media, where he became principal and creative design director.
In 1995, Bevan was suddenly diagnosed with testicular cancer. While he was able to successfully battle that disease, in February 2002, doctors informed Bevan that he had Chronic Myeloid Leukemia (CML). He immediately began treatment, which included a bone marrow transplant that April. He was released from the hospital in May and was able to enjoy the summer feeling in pretty good health.
In September 2002, physicians discovered blast cells in one of Bevan's blood tests. He started chemotherapy treatment, and along with it, received a number of red cell and platelet transfusions. "Throughout this whole ordeal, Bevan remained very positive and always seemed to comfort his friends, rather than the other way around," says best friend Steve Colbert. "If there is one act of kindness Bevan would ask of us, it would be to please donate blood or platelets regularly because it particularly benefits cancer patients."
Bevan Wang lost his battle with leukemia on December 24, 2002 at the age of 33. He was surrounded by his family and several friends, many of whom have taken Bevan's message to heart and became regular blood or platelet donors through the American Red Cross.
By sharing his story, the Wang family reminds people that donating blood makes a huge difference in the lives of those going through treatment to battle leukemia, and to the circle of family and friends surrounding them.
"I remember visiting him in the hospital while he was receiving chemotherapy and blood transfusions, and he would be entertaining his friends and telling jokes to make us feel at ease, even though it was obvious how sick he was feeling. That's just the kind of person he was."
- Steve Colbert,
Bevan's best friend