ActiveEdge Accepts NH SBDC's 2004 Visionary Award
First Ever Award Celebrates NH's Small Business Success Stories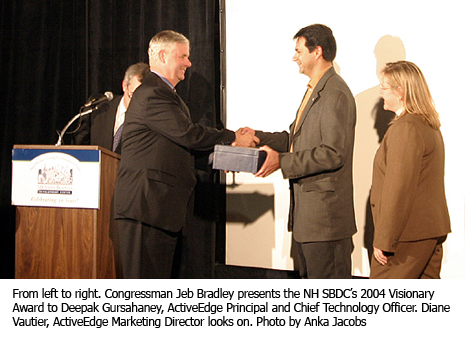 Nashua, NH – On November 21st ActiveEdge was presented with the New Hampshire Small Business Development Center's (SBDC) 2004 Visionary Award.
This year was the first year the Award was presented as part of SBDC's new tradition of recognizing successful client businesses for their clear and strong vision and their commitment to NH's community. The presentation of the Award was a highlight of the SBDC's 20 th Anniversary Celebration held at Langer Place in Manchester, NH
Deepak Gursahaney , ActiveEdge Principal and Chief Technology Officer , accepted the award which was presented by New Hampshire Congressman Jeb Bradley. "We're delighted SBDC chose ActiveEdge to receive their very first Visionary Award" said Mr. Gursahaney. "I think like many small businesses in the state, ActiveEdge is representative of the spirit of entrepreneurship that is New Hampshire."
The SBDC Selection Committee reviewed more than fifty prospective candidates for the honor of the Award, basing their decision criteria on three significant factors:
the clear and strong vision for the venture
an active SBDC client that clearly benefited from the organization's counsel
a successful enterprise that gives back to the community
"ActiveEdge has been an ongoing client of SBDC" said Mary Collins, NH SBDC State Director. "They came to us during their initial start up, sought our advice during expansion, and now are a successful, community-minded business that contributes to NH's economy while helping their clients to succeed."
NH SBDC is an outreach program of the University of New Hampshire's Whittemore School of Business and Economics in partnership with the US Small Business Administration, the state of New Hampshire (DRED) and the private sector.
About ActiveEdge
As an integrated marketing firm, ActiveEdge creates online and offline, results-oriented marketing programs with powerful impact and exceptional value. For more information on web development, interactive, 3D, print design, branding, corporate identification, or marketing, call 603-889-3925, visit www.activeedge.com or email us at info@activeege.com.