ActiveEdge Earns The Citizens Bank "Not Your Typical Business" Award
Extends thanks to all its customers for their patronage and support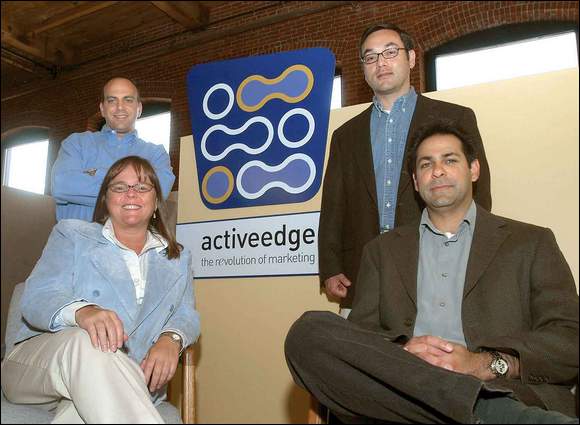 Pictured are front row, from left: Diane Vautier and Deepak Gursahaney;
back row, from left: Scott Wright and Duncan Hsu.

Nashua , NH – On June 9th, ActiveEdge was recognized by Citizens Bank and The New Hampshire Business Review with the "The Citizens Bank Not Your Typical Business Award". The Award, presented each month to a unique area business, honors individual companies who maintain an outstanding commitment to community, colleagues and customers.

The announcement was made in the June 9-22, 2006 publication with a three-quarter page article. An award plaque will be formally presented June 27th at the company's 67 Technology Way office in Nashua, NH.

"Our ongoing philosophy has always been customer and community minded" said Deepak Gursahaney, ActiveEdge Principal and Chief Technology Officer. "It's part of our corporate culture. We've found that working as part of our clients' team makes us more effective in achieving their objectives, and being good stewards in our community gives us a sense of personal satisfaction. It's a combination that works for us."

"ActiveEdge is a dynamic company" adds Diane Vautier, ActiveEdge Marketing Director, "we each contribute a unique skill set that when combined, creates a synergistic effect. It also really helps that we all respect each other and are able to work cooperatively to get things done."

"We recognize and thank our clients for all their patronage and support" said Gursahaney. "We're very fortunate to be working with some really great people and great companies".

About ActiveEdge



As an advertising agency alternative, ActiveEdge creates online and offline, results-oriented marketing programs with powerful impact and exceptional value. For more information on web development, interactive, 3D, print design, branding, corporate identification, or marketing, call 603-889-3925, visit www.activeedge.com or email us at info@activeedge.com.