ActiveEdge Sponsors nTEK 2007 Conference
Interactive Marketing Firm Supports leading Summit for Southern NH's High Tech Companies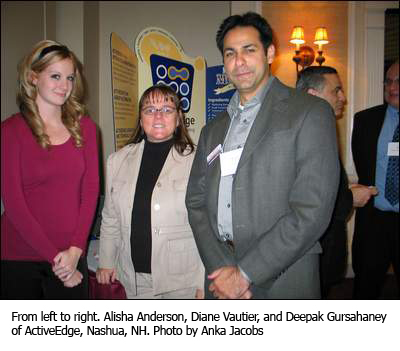 Nashua , NH – ActiveEdge along with co-sponsors BAE Systems, Kollsman, and NH Business Review backed the first-of-its kind nTEK Summit. Held at the Crowne Plaza in Nashua, NH, the half-day conference was a joint venture of the Greater Nashua Chamber of Commerce and the City of Nashua Economic Development Office. Both support high tech companies located in or who may be considering relocating to Southern NH.
The Summit brought together the states most prominent high tech management, owners and investors to unveil a strategic initiative to create the state's largest Technology and Research Park in the Southern New Hampshire area. Mayor Bernie Streeter announced the plan as a means of creating space and fostering an environment of "growth and sustainability of high tech businesses in and around Nashua".
As part of the successful high technology business community here in Nashua for over 10 years, we felt an obligation to support the continued growth of high tech in the state" said Deepak Gursahaney, ActiveEdge Principal and Chief Technology Officer. "nTEK was the perfect vehicle for us to do that".
About ActiveEdge. An integrated marketing firm, ActiveEdge creates online and offline results-oriented marketing programs with powerful impact and exceptional value. For more information on web development, interactive, print design, branding, corporate identification, or marketing, call 603-889-3925, visit www.activeedge.com or email us at info@activeege.com.